Description
Details
Need Help?
Unsure if this hair texture is for you? No worries! Send us a message to
cozy@cozylocks.com
with a photo of your hair and we will suggest a proper texture for you.
All hair extensions are measured straight. Please use the guidelines below to select the perfect hair length for Afro Kinky Curly clip-ins!
14" (Straight Hair) = 9" to 9.5" (Kinky Curly Hair)
16" (Straight Hair) = 10" to 10.5" (Kinky Curly Hair)
18" (Straight Hair) = 11" to 11.5" (Kinky Curly Hair)
20" (Straight Hair) = 12.5" to 13" (Kinky Curly Hair)
Join the CozyLocks Family!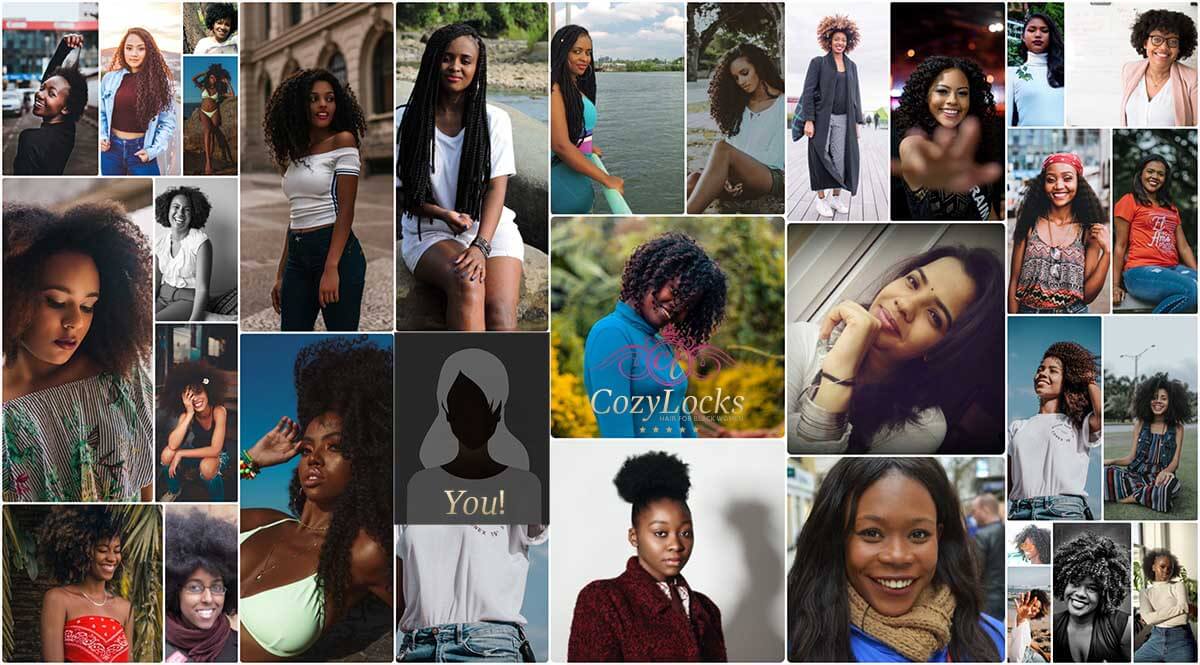 Remy Hair Care
To make your extensions last for up to a year, please follow these simple steps.
To keep the curls in shape, we do not recommend using a hair strengthener. The heat could loosen your beautiful curls.
Apply a small amount of hair conditioner every other day. Use your fingers to detangle hair, if required.
To keep your extensions in shape, it's better to wash them with hair conditioner only. Shampoos tend to strip real hair of all protective oils, causing dryness and lost shape.
That's it! Your extensions will arrive in a pristine condition and you don't have to worry about dry hair or tangling. Try not to process your lovely hair too much and these locks will last you for months.
Delivery
We have simplified our shipping terms and offer two delivery methods, both of which are extremely fast! Please allow us 24 – 48 working hours to process your order.
US & Canada Shipping Options
Express Shipping: 3 to 5 business days
Rapid Shipping: 1 to 3 business days
EU & Australia Shipping Options
Express Shipping: 3 to 7 business days
Rapid Shipping: 1 to 5 business days
Customer Reviews
Easy to style, easy to install and easy to maintain,

I did doubt the hair quality prior purchase but the hair looks beautiful,

I am now new fan of you!.
By Noel
May 19, 2019 8:04:48 AM PDT
These are absolutely gorgeous
By B'shara
May 19, 2019 7:57:15 AM PDT
Why is it so hard to create texture that actually blends? I have been burned by SO MANY STUPID BRANDS, I am cautiously optimistic about this one, so far, i am very happy with my purchase, 2 months in
By Emilynn
May 19, 2019 7:56:39 AM PDT
I actually have very thick hair but these locks still worked great!

Nothing but good words from me so far, would buy again and again
By Darby
May 19, 2019 7:55:43 AM PDT
Virgin hair is always the best
I mean it is natural hair, it is of good quality... Also, thanks for a quick delivery

By Keandra
May 19, 2019 7:54:40 AM PDT
These extensions have blended way better than any previous brand I have tried on Amazon
By Genecia
May 19, 2019 7:53:54 AM PDT
It's so easy to style these, I love them a lot
By Jaborah
May 19, 2019 7:53:22 AM PDT
Had them for 4 months now and they still look like new.
By Tallah
May 19, 2019 7:52:25 AM PDT
These are the best extensions for women of color i have tried, thank you
By Vakala
May 19, 2019 7:52:02 AM PDT
Good blending properties and price
Incredibly soft extensions
By Dakala
May 19, 2019 6:03:07 AM PDT
It's easy to fool everyone around me, as the hair is spot on, i cant even distinguish myself from my real hair
By Chesiree
May 19, 2019 6:02:35 AM PDT
I love the product!!!, Got 4c kinky style
By Nishay
May 19, 2019 6:01:57 AM PDT
Shipped fast, hair is great
I have bought 20 inch curly clip in extensions and they were delivered the next day with fast shipping. Very happy with cozylocks extensions, glad to have found a store of good quality
By Sha Tanya
April 10, 2019 3:04:48 AM PDT
See all
Hide all